Careers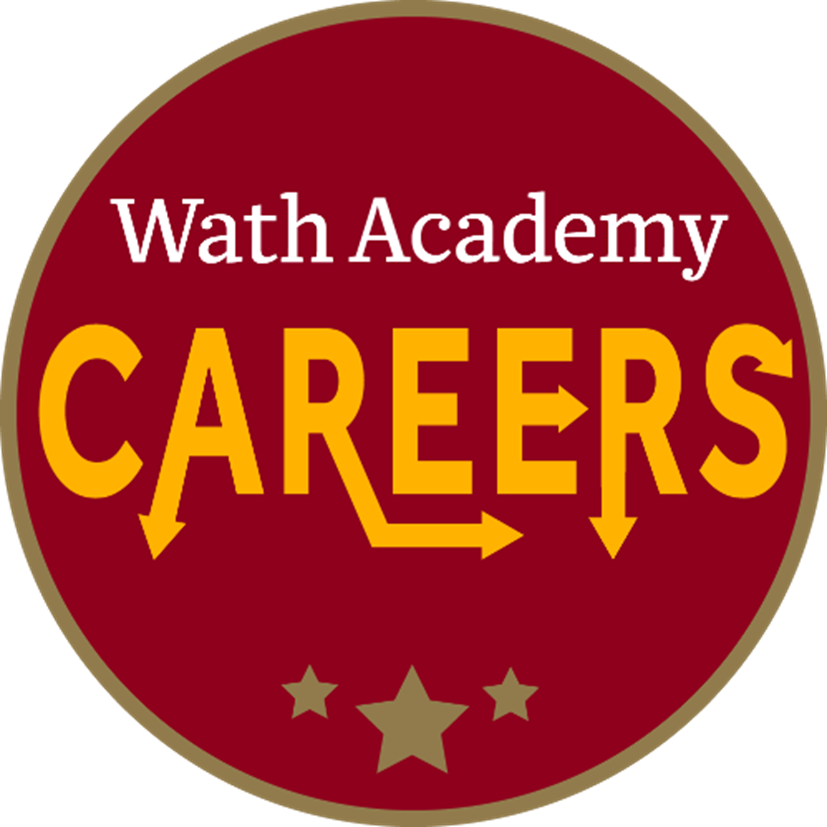 NEW! Wath Academy Careers Padlet
Click the link below for all the latest Careers news and updates.
https://padlet.com/nlaite/ax72poo781xuiwn2
Here at Wath Academy we have a dedicated careers team providing careers advice, information, education and guidance for all students from Year 7 though to Year 13. Our Activity Plan for 2022/2023 is available as a PDF download at the bottom of the page. You can find key Ofsted and additional information about our provision in our careers policy, which is available to download in the policies section of our website. The information on the careers section of the website will be reviewed each term. The date of the next review is 21.07.23.
Enquiries relating to our careers provision should be directed to Mrs Laite, our Careers Leader; her role includes one-to-one careers interviews, planning the careers education programme and coordinating activities such as work shadowing days, mock interview days, career fairs and employer engagement. Mrs Laite is based in the school library and can be contacted by e-mail at careers@wathacademy.com or telephone (01709) 760222.
Destinations Data
Wath Academy uses destinations data (where our students go and what they do after leaving school) to monitor and measure the effectiveness of our careers guidance and improve outcomes for young people in schools. Destinations data is available on the Department for Education website. Due to the complexity of gathering this data there is a delay between students leaving school and destinations data being published.
The table below shows how Wath Academy measures and assesses the impact of the careers programme on students:
Gatsby Benchmark

Monitoring, Review and

Evaluation

1. A stable careers programme

Student Voice to review the quality of key components of CEIAG on offer within the curriculum and enrichment
Life Skills lessons to be monitored in line with curriculum/subject monitoring and review
Life Skills teaching staff to feed back on the quality/success of the careers education programme via end of unit questionnaires
Students to complete questionnaires at the beginning and the end of units to determine the impact of learning
Evaluations to be shared with the Enterprise Adviser to ensure strategic planning benefits from the experience and collaboration on offer
Staff questionnaires/subject audits to determine CPD needs

2. Learning from local labour market information

Student activities designed, using Unifrog, Shape Your Future and the National Careers Service to gauge understanding of LMI
Student Voice sought to feedback on the range of LMI available
Destinations including technical, engineering and HSC subjects to be monitored to show numbers over time

3. Addressing the needs of each student

Feedback from SEND Reviews/PP progress meetings to ensure individual needs are being met
Reviewing destinations data for FE, HE and apprenticeships

4. Linking curriculum learning to careers

Subject audits to pinpoint careers education and how it is linked to subjects
Visit planning and evaluations to include specific careers-related interactions for all visits/activities
Student Voice questionnaires

5.Encounters with employers and employees

Visit planning and evaluations to include specific careers-related interactions for all visits/activities

6.Experiences of workplaces

Employer feedback forms
Student reflections/feedback

7.Encounters with further and higher education

Student Voice/ Life Skills questionnaires to determine how experiences have contributed to careers planning and choices

8.Personal guidance

Student feedback forms to be introduced for personal guidance interviews
CPD opportunities with the CDI to ensure professional capabilities are retained and regularly updated